FlexibilityRx™ Program
The FlexibilityRx™ program is an integrated system of assisted stretching and self-stretching that allows CrossFit gym owners to provide their members with an essential resource (flexibility training) to support fitness development through the CrossFit exercise program.  Assisted stretching is the product of Stretch Win® called Fascial Stretch Therapy™.  The self-stretching system (classes/workshops) is the product of Ready State Fitness called FlexibilityRx™. 
As Director of the CrossFit Scottsdale Flexibility Program Kevin has tried and tested the integration of selling assisted stretching packages and providing classes and workshops for CrossFit Scottsdale gym members.  The combination of providing gym members with a free personal flexibility assessment, assisted stretching, and self-stretching instruction forms the basis for the FlexibilityRx program.
About FlexibilityRx™
FlexibilityRx is a system of Flexibility Training that will provide you with a simple formula to Turn FLEXIBILITY into PERFORMANCE.   The 'PR-Formula' consists of properly assessing flexibility, 'FLOW'ing into your stretches, before retesting your flexibility by setting a 'PR' in your workout.
By understanding why, where, when, and how to stretch you will no think of stretching as just part of your warm-up – you will be stretching to increase your strength, speed, and power for your workout.  The FRX Method makes stretching simple, efficient, and effective by providing you with flexibility assessments, stretch routines for the squat, press, running, and recovery and a method of stretching called "FLOW'.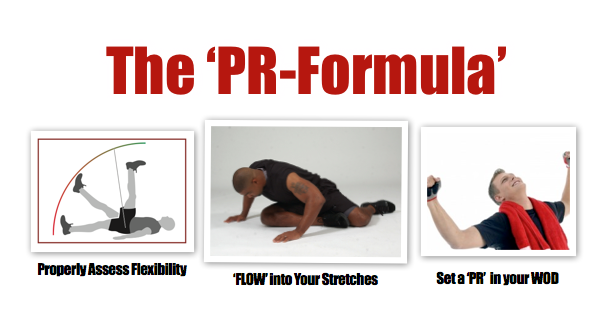 Free 'Personal Flexibility Assessment'

The PFA includes an assessment of your flexibility in relation to the flexibility demands of the squat, press, and running.  The SquatRxPFA is the foundation for improving both lower and upper body flexibility.  After filling out your PFA and understanding how to properly assess your own flexibility you will both experience assisted stretching (Fascial Stretch Therapy™) and be given instruction in self-stretching (The FRX Method).
During your PFA I will show you Where to Stretch based on your personal flexibility potential, How to Stretch (using my 'FLOW' Method), and When and Why to Stretch so you can Turn FLEXIBILITY into PERFORMANCE.
The 'Core-Four' Stretch Matrix of the Stretch to Win® system of Flexibility Training provides an effective pre-workout stretch routine for any workout.  FlexibilityRx is the adaptation of the Stretch to Win system to CrossFit – the 'Core-Four Stretch Matrix', the 'Personal Flexibility Assessment' and the Ten Principles of the Stretch to Win system (which make up my 'FLOW' Method of Stretching) – set a solid foundation for a self-stretching program.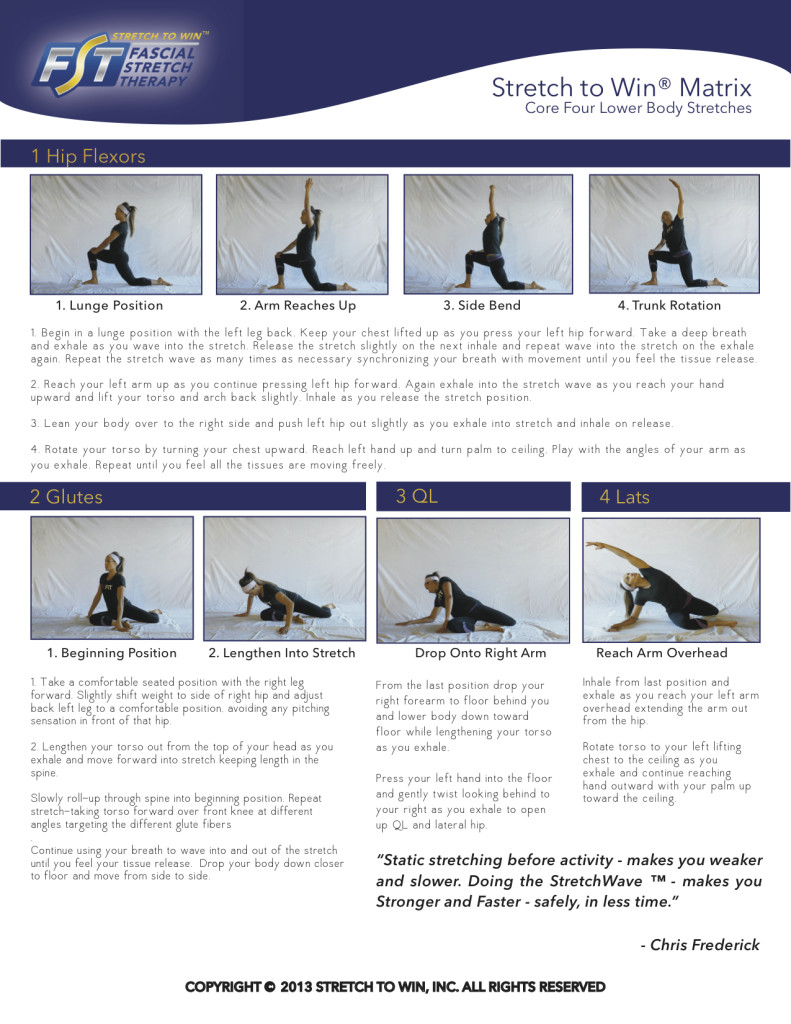 After your Free PFA you will know how to warm-up and cool-down effectively, stretch based on the needs of your body and develop a 'Personal Flexibility Plan' that will guarantee your success with CrossFit.
Based on your personal goals you can then decide how much you want to challenge yourself in your workouts by using my stretching guides, attending my classes and workshops, and quickly improving your flexibility with assisted stretching.
Assisted Stretching Packages

Fascial Stretch Therapy is a very effective and gentle style of assisted table-based stretching.  After getting off the table you will feel lighter, more fluid in your movement, stronger, and literally years younger – ready to set a 'PR' in your WOD.
FST is for everyone – whether you CrossFit, play competitive sports, or just want to remain physically active.  In one-hour sessions you will be amazed at how years of stiffness and mobility will disappear by quickly transforming your flexibility.
Fascial Stretch Therapy is the premier Performance Enhancement tool of the worlds greatest athletes including: Fighters Mike Tyson and Frank Mir; football players Emmit Smith, Kurt Warner, Larry Fitzgerald, Donovan McNabb, Terrel Owens; Olympic medalists Kurt Engle and Tom Brands (wrestling), Sanya Richards (track), Stacy Dragila (pole vault), basketball player & NBA analyst Charles Barkley.

Weekly FlexibilityRx™ Classes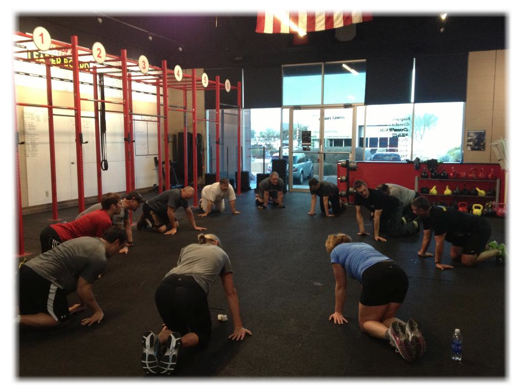 If you are new to CrossFit you need enough flexibility and range of motion to safely perform the movements in the workout including the squat, press, and other essential CF movements.  Intermediate CrossFitters can complete workouts  "as prescribed" without scaling weights and reps by improving their flexibility.  If you are a competitive athlete -  stretching will allow you to instantly set PR's in your CrossFit WODS – Flexibility is the Quickest Path to Performance.
Whatever your fitness level, this one-hour class will help you achieve enough flexibility for the squat, front-rack, and workout.  You will perform better, recover quicker, and prevent injury by improving your flexibility.
 Classes are every Saturday from 9-10am (Free for CrossFit Scottsdale Members, $20-drop-in for non-members)
Monthly FlexibilityRx™ Workshops
The Why, Where, When, and How of Stretching 
If you are already stretching in the gym, then why have you failed to notice significant changes in flexibility as a result of stretching?  Did you know that aggressive stretching could actually make you less flexible?  In order for stretching to be effective it has to be tailored to the demands of the athletic activity -using yoga or runners stretches for CrossFit may not help you 'PR' in your workouts.  You need to know 'Why you are stretching', 'Where to stretch', 'How to stretch', and 'When' to use specific stretches.
Turn FLEXIBILITY Into PERFORMANCE 
Did you know that a functional stretching program will directly enhance your CrossFit workouts – producing measurable results? If you want to lift heavier, move faster, or improve your endurance flexibility's return of investment is second to none.  At CrossFit Scottsdale members hit 'PR's one after another – after attending my workshop – by applying the 'PR-Formula'.
The 'PR-Formula'
#1: Properly Assess Flexibility
#2: 'FLOW' into Your Stretches with Routines for the Squat, Press, and Recovery
#3: Retest Your Flexibility – By Setting a 'PR' in Your Workout
CrossFitters need to place a high emphasis on assessment before stretching and retesting flexibility after stretching.  What better way to assess your flexibility than to 'PR' in your workout?  Retest your range of motion actively first and then in sport specific movements like the squat, before using your workout as the ultimate test.
The Workshop will cover the Six components of the 'FRX Method'
Understanding Flexibility
How to Turn Flexibility into Performance (PR-Formula)
How to Assess Flexibility ('Personal Flexibility Assessment')
How to Stretch ('FLOW' Method)
3 Essential Stretch Routines (Squat, Press, Recovery)
How to Program Flexibility ('Personal Flexibility Plan')
At the end of the workshop you will walk away with a simple understanding of how to assess flexibility, stretch your way to more strength, speed, and power, and design your own 'Personal Flexibility Plan'.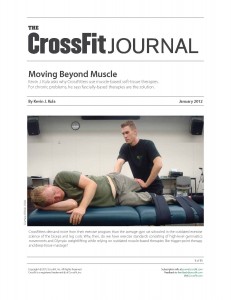 "Moving Beyond Muscle"
Non-Stop 'PR's
"Your Flexibility classes help me more than Mayo Clinic Physical Therapy. The stretch routines should be a mandatory part of every CrossFit workout – they help me effectively CrossFit more than anything else." – Tina Velgos (CrossFit Scottsdale Member)
"So Kevin – when you say that you help people achieving PR's I didn't realize that you meant, that same day!!  This evening I PR'd by 10 reps on the Open workout from 2012 – with NO residual bicep, elbow or shoulder pain…THANK YOU!!!!! I fell like I got my arm back today." – Kare Williams (CrossFit Northwest Tucson Coach and Masters Competitor)
"Kevin has enabled me to get into the front-rack position & the bottom of the squat. I'm performing at my best." – Luke Kayyem (Owner of CrossFit Scottsdale)
"For the first time in years I was able to run without pain.  In my opinion Kevin is one of the top experts in understanding human movement and what CrossFitters need to get the best performance and the best results from their workout." – Jake Parent (Owner of Tribal CrossFit)
"I'm finally moving in the right direction.  I resolved my Achilles tendon injury and my joint pain and stiffness– JoAnn Siros (CrossFit Newbury Park Member)
"After a month of doing flexibility with Kevin I hit two PR's in one week in two different lifts." – Joe Atkielski (CrossFit Scottsdale Member)
"Stretching is not one-size fits all.  The assessment that we did helped me identify the two areas I needed to stretch, I got a lot of great tools on stretching them on my own." – Julie Delaney (Ahwatukee CrossFit Coach)
"Since working with Kevin I passed my Level I Fitness Test, I was named athlete of the month, and I have set multiple personal records." – Angelica Nguyen (Europa 'SICest of the Southwest' Competitor)
"This is the closest thing I've found to a real, lasting, "silver bullet" in 18 years in fitness" – Maceo Jourdan (CrossFit Maricopa Member)
"Workout went great last night! We did some every minute on the minute power cleans and front squats to start. I really felt much looser in my hips. I felt like I dropped down during the power clean much more easily and naturally.  The front squats also felt much easier, even at heavier weights!" – Mike Winslow (CrossFit Tempest Member)
"Flexibility is integral to strength, without full range of motion you will not gain strength in your workouts." – Bud Hart (CF Scottsdale Member)
"After Kevin's workshop I passed my Level 2 Test.  Stretching is more effective now because I know where my restrictions are and I synchronize my breath and movement." – Rudy Frame (CrossFit Scottsdale Member)
"I PR'ed in my Snatch last week after doing the 'Core-Four' stretches pre-workout for the first time." – Nathan Atchison (CrossFit Scottsdale Member)
"Stretching is actually part of the workout.  I worked out five days this week and I am not sore." – Sarah Sanchez (Ahwatukee CrossFit Member)
"The 'Core-Four' stretches have dramatically improved my running.  The hip tightness is gone." – Robert Scovill (CrossFit Scottsdale Member)
For more information Contact Kevin@FlexibilityRx.com – 602.688.2528